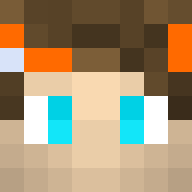 Well-known member
Staff member
Manager

Joined

Jul 21, 2018
Messages

230
Likes

1,197
Hi, and welcome to the thread so many of you have been waiting for! Yep, that's right, we're resetting Skyblock.

On Saturday the 26th of January at 6pm UK time we'll be resetting Skyblock with lots of new changes and updates.
You all want to know what changes we're making so I suppose I'll hop into it:
1 Realm
That's right, we're going back to having 1 realm. Following an in game poll it's clear players would prefer 1 realm with multiple island themes to choose from. (Islands will also be larger than they are currently to start off with!)
This means that we won't have 'Galactic' AND 'Egyptian' - just 'Skyblock' - and you'll be able to choose from a range of themes for your island including but not limited to Egyptian and Galactic.
New Farming Rules
- Farms that require redstone to function will no longer be allowed, so that means no more massive sugarcane or melon farms relying on redstone to make money!
- Redstone limitations will be implemented as to prevent these from being built.
- Any farms relying heavily on hoppers will be removed, remember to use crop hoppers as they collect ALL the loot from a chunk that you want them to and make less lag! /hopper convert
PvP
We'll be removing the hit cooldown implemented in 1.9+, which means you will no longer have to time your clicks to have the best impact. This doesn't mean PvP will feel entirely like 1.8, the hit registration won't be the same and shields and other 1.9 items will still be available.
More Custom Enchants!
All in all we're adding 4 new custom enchants to Skyblock:
- Haste: Does what it says. Gives the player constant haste!
- Fire Res: Same as Haste, just constant Fire Res
- Farmer's Luck: It's like Fortune, but for farming! So you'll get extra drops from any crops you farm using this enchant.
- Green Thumb: This enchant will give you a chance at automatically replanting any crops you break using it. So if you break wheat with a hoe that has the enchant, the wheat might automatically replant itself! The higher your XP level the more chance you have to replant.
Parkour Event
We'll be adding a Parkour event to Skyblock, will run maybe 2-3 times a week! Primarily focused on the weekends.
The event will start and any players will be able to join. The event will run for a specific period of time, for example 30 minutes. During that time you can complete the parkour as many times as you want to - at the end of the event whichever players had the best time will win a prize. It saves your best time, so if you fail the first time you can try again!
There will be multiple parkour courses and the event will randomly choose which course to run on so it doesn't get boring.
Outback
Similar to the one recently introduced on Factions, we'll be introducing an Outback on Skyblock - an area where players will be able to mine ores and earn 'credits', but PvP will be enabled in the area - these credits will be spent on cool items like an autosell chest!
Printer
We're adding the /printer command to Skyblock. This pretty much allows you to use the printer function from schematica mod without needing to actually have any of the blocks already. You will pay for them as you place them! Read more detail
in this thread
.

Other Misc Updates
- You'll now be able to SEARCH for playerwarps! So you could type /pwarp search WelshAlex and see any pwarps I've made!
- Your scoreboard will display relevant information like your island level, balance, and number of people on your island.
- Overhauled crate prizes
- People will disappear within a small radius of the shop NPC so he's not overcrowded.
That's pretty much all we have to announce at the moment, it's a lot to take in but we hope you're excited for this new season of Skyblock and the features we're introducing because we sure are!